DEVELOPMENT UPDATE - AUGUST 2023
Heroes. Villains. Allies. Enemies. Civilians. Magic users. Please read on for your August 2023 Development Update to learn more about what the team has been up to and what's next for DC Universe Online.
What follows are our plans laid out as transparently as possible based what we know or expect to be true - as of right now.
Plans can always change. 
NEWS
If you do not read this whole update, here's what you need to know:
Episode 46 is Justice League Dark Cursed

PlayStation 5 and Xbox Series X launch this holiday season
Let's catch up on what we have been working on.
PREVIOUSLY ON DCUO: JANUARY-JULY
The first half of 2023 marched by to the familiar beat of seasonal events. Episode 45: Shock to the System launched in April, featuring the Milestone Universe, Dakota City, and characters Static and Rocket for the first time. 
Doctor Fate was relentless is his mission to add new monthly rewards. We found new allies in Static, Shazam, General Zod, and Poison Ivy. 
We also saw the release of the new emotes feature, several new and returning bundles, the name reclaim, and, wait for it, the Superman Anniversary Emblem celebrating 85 years. This one is important to note, because you must log in and unlock your emblem from Tempus Fuginaut (in the House of Legends) before the end of 2023!
NEXT ON DCUO: AUGUST-DECEMBER
Heading into the rest of the year, we have a full slate. We just saw the start of the Save the Universe event (up-leveled classic content with modern challenge), which runs into September, and this week we will see the new Blue Beetle ally. The Homecoming event then arrives in September, followed by the Witching Hour in October and Season's Greedings in December. We'll of course have new allies, artifacts, and time capsules, too. 
Most importantly, we have two major announcements to round out this development update. Episode 46: Justice League Dark Cursed will launch this October and DC Universe Online will launch on latest-generation consoles PlayStation 5 and Xbox Series X this holiday season!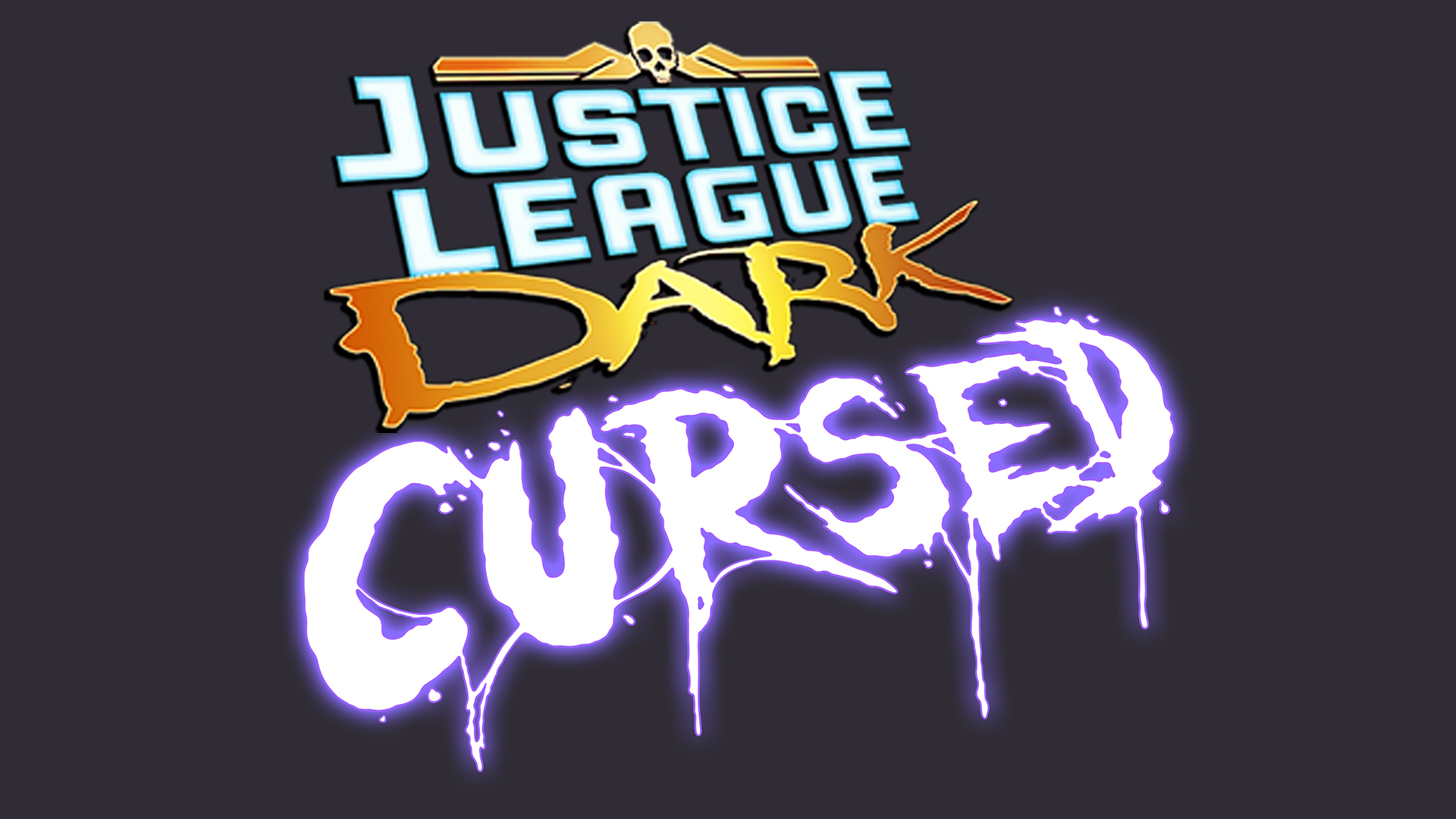 Episode 46: Justice League Dark Cursed
A powerful curse is burning through the world's most powerful magic users, escalating their powers to dangerously violent extremes! Hoping Batman can take on the hard work, John Constantine's transported his House of Mystery to overlook Gotham Cemetery, where he and it are now under attack.
Who - or what - is the source of this terrible curse? Is magic itself doomed? Will Constantine's cheeky imposition land him in hot water with the Caped Crusader? Constantine and Zatanna have personally asked for your help. 
In JUSTICE LEAGUE DARK CURSED, players will join forces with Batman and members of the Justice League Dark to put an end to this threat to all magic. 
THINGS TO KNOW ABOUT JUSTICE LEAGUE DARK CURSED:
JUSTICE LEAGUE DARK CURSED will offer normal and elite versions of On Duty content, with level-agnostic event versions available for a limited time.
The content will include open world missions, a solo, an alert, and a raid.
The episode will feature DC characters including Batman, Wonder Woman, Zatanna, John Constantine, Deadman, Hecate, and more.
The storyline will follow the events of and serve as an indirect sequel to the acclaimed Episode 34: Justice League Dark.
The episode will launch new player rewards, including gear, styles, and more.
EPISODE 46: JUSTICE LEAGUE DARK CURSED will launch in October 2023 on PC, PlayStation 4, Xbox One, and Nintendo Switch.
DC Universe Online on PlayStation 5 and Xbox Series X
DCUO is headed to the latest-generation of consoles with PlayStation 5 and Xbox Series X this holiday season!
Along with the performance gains found playing natively on the latest and greatest hardware, the team is also working on gameplay and quality of life improvements to match. This initiative is a long-term endeavor that is already underway. You will see some of these improvements launch over the next few months prior to release on the new consoles, some of them at launch, and some of them following over the course of next year. Stay tuned for a future update with more information.
Now, you may be wondering what this means for playing DCUO with your friends, and let us assure you right away that whether you choose to move to the latest console or stay on your current one, you will still be playing on the same servers with your same characters and friends, and with all of your purchases and achievements seamlessly intact. All you need to do is log in with the same PSN or Xbox account once you have downloaded the game on your new system.
Are you ready to experience DCUO like never before? Us too. 
CALENDAR
If paragraphs are not your thing, maybe calendars are!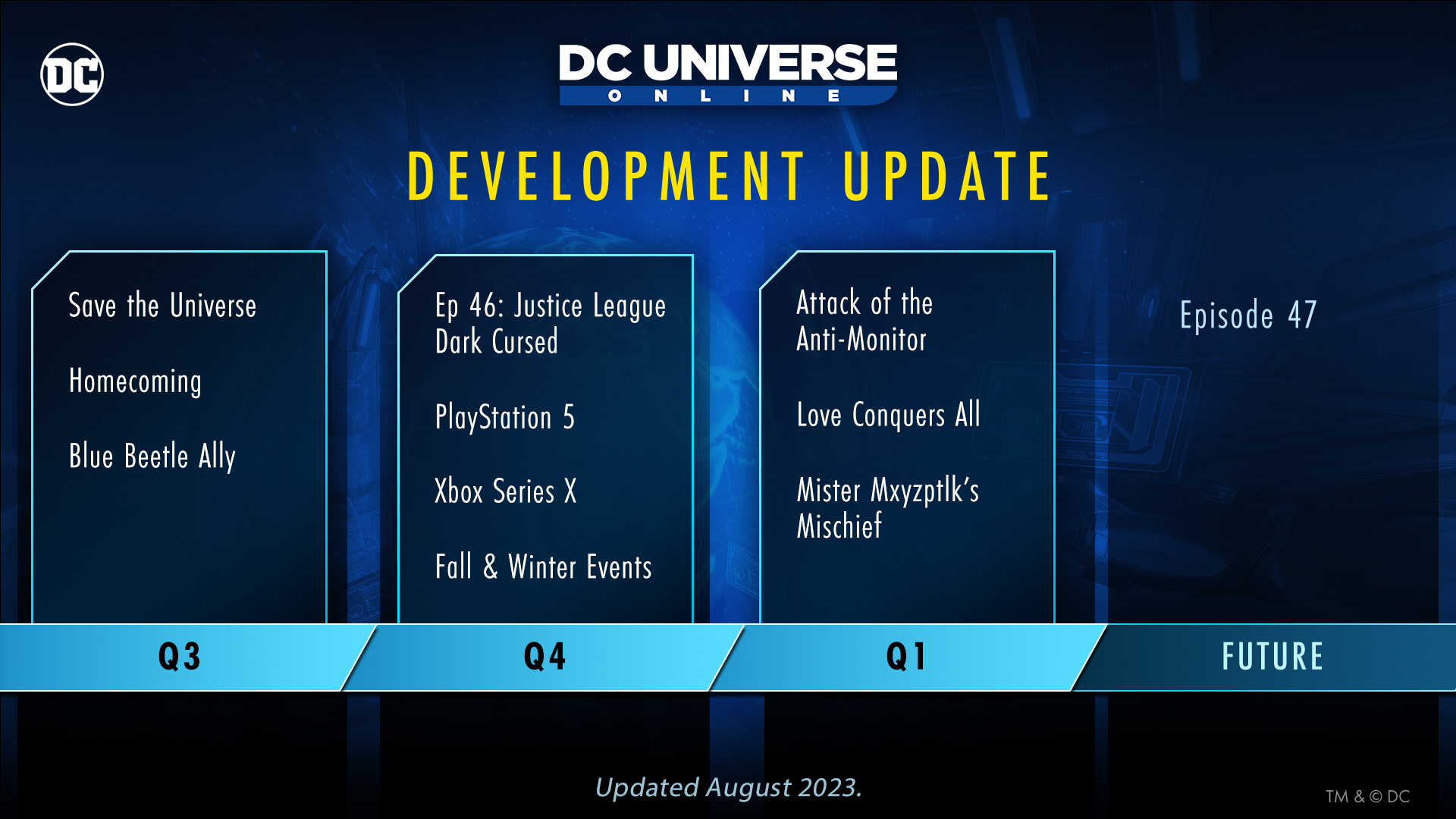 Thank you for reading! Please join the discussion on the official forums with any questions and let us know what you want to see in 2024. 
Ted "Mepps" Stone
Senior Community Manager
DC Universe Online